Opera Software releases the first edition of Opera 10. Opera 10 Beta is to be noted for it's enhanced speed and performance. Turbo Opera 10 is said to "offer a variety of new features, including compression technology that can cut by a third the time it takes pages to load on slow networks."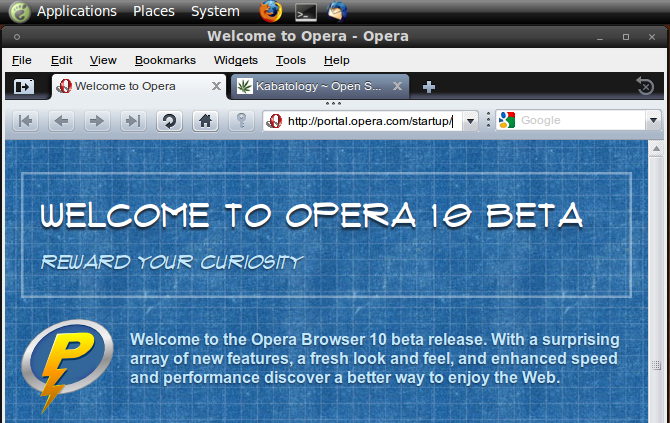 Other features include:
Tabbed browsing update from the original pioneers – – The tab bar is now resizeable, but with a twist. Pull down the tab bar (or double-click the handle) to reveal full thumbnails of all your open tabs.

Opera Speed Dial just became your Speed Dial – – Speed Dial has been a favorite of Opera fans since its introduction, and now you can personalize it. Have a large monitor? Super-size your Speed Dial with a 5×5 grid. Want to see your family or friends in every new tab? Add their smiling faces as a background image. Our new Speed Dial is now as flexible for you as it is fast.

The application integration trifecta – – Opera comes standard with an e-mail client, newsfeed readers and BitTorrent support within the browser. In Opera 10, you can now easily choose to use a variety of Web-mail providers, online feed readers or other BitTorrent clients as your default choice.
– Improved inline spell-checker. It now supports 51 languages, using the popular open source Hunspell dictionary format.
– Improved e-mail client; with rich text editing including inline images, styled text, links, and full HTML. Opera 10 also allows you to automatically delete e-mails from your POP server after a specified amount of time to keep your inbox.
– Ça Va Sans Dire; Opera 10 comes with a complete interface-lift and skin, with particular regard to Mac users.
Opera 10 beta is a completely free download for Windows, Mac and Linux users
via [The Register ] | Opera 10 Press Release