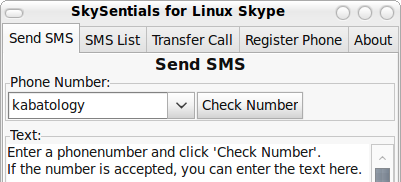 If after upgrading to Ubuntu 9.04 Jaunty Jackalope you found out that you could no longer Send Text Messages with Skype for Linux, then this is what you should do – – A quick wall-through for you.
Start by creating a folder in your Home folder and call it SkypeSMS for example.
Move into the folder – – cd SkypeSMS
Now download Skype4Py into that folder with
svn co https://skype4py.svn.sourceforge.net/svnroot/skype4py . – – Copy and Paste into a terminal
If you don't have subversion installed, do install it with sudo apt-get update && sudo apt-get install subversion
Move into the newly downloaded skype4py folder – – cd skype4py and install skype4py with sudo python setup.py install
Now download the modified version of skysentials for Ubuntu 9.04 into the SkypeSMS folder and Extract.
wget -c http://xodeus.dk/files/skysentials-1.0.1-xod.tar.gz
tar -zxvf skysentials-1.0.1-xod.tar.gz
Move into the extracted skysentials folder – – cd skysentials-1.0.1-xod
Make sure Skype is running when you fire up skysentials with ./skysentials.py
You're now set to send a Skype for Linux SMS.
Why not create a quick-launch link to your Skysentials, say under Accessories in the Applications Menu. Right-click on Applications -> Edit Menus. In the "Main Menu" windows, select "Accessories" under the "Menus" tab and click "New Item" to open the "Create Launcher" windows. In the
"Name field" = Skysentials
"Command Field" = /home/username/SkypeSMS/skysentials-1.0.1-xod/skysentials.py
with "OK", your done.
Thanks to XoDeus.dk for the modified version of Skysentials.