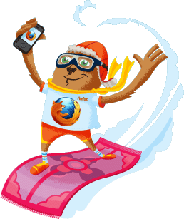 Mozilla enters directly into the mobile browser market with the release of its first ever mobile browser. Fennec 'Maemo' 1.0 is now available for Nokia N900.
Opera Mini the leader in this sector should watch-out as Firefox intends to bring all its desktop experience to mobile devices – for example Mozilla rolled out Weave Sync on Frclassay for Firefox and Firefox mobile, so users could completely synchronize their bookmarks, saved passwords, preferences, browsing history, and open browser tabs.
Flash was dis-activated by default in Firefox for Maemo 1.0 RC 3 as it greatly compromised its permanence, but no Flash also means Firefox mobile users wouldn't be able to adequately view Flash dependent web sites or watch YouTube video clips – Mozilla now has temporary Flash substitute add-on called YouTube enabler for Firefox mobile, but it might still affect the overall performance and interactivity of the browser.
Features of the first mobile web browser to support add-ons include; the Awesome Bar, Add-ons, Location-Aware Browsing, Tabbed browsing, Popup blocker, Automated Update, Safe Browsing. Download Firefox 1.0 for Maemo here, for more details hit the link below.
via [the Mozilla blog]