Now available is the source code of the popular open source, cross-platform Media Player VLC 1.0 RC1 for Linux. You'll have to compile it and resolve many dependency issues to have it on and running on your Ubuntu.
The release of the Windows version of VLC 1.0 rc1 was announced here yesterday.
No official statement or release notes have been made available by the developers of VLC. It is now official and mentioned on the VideoLAN website. The only mention of VLC 1.0 that has been made on the VLC website is VLC 1.0's new logo – – The Bulldozer.
[Update]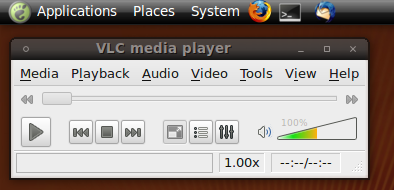 It was rather long and tedious, but I'm happy Idid succeed in compiling VLC 1.0 RC1 from the source code.
Tips: Remove previous version with sudo apt-get remove vlc vlc-plugin-esd mozilla-plugin-vlc
cd into vlc folder and compile with
./configure – -disable-mad – -disable-avcodec – -disable-avformat – -disable-swscale – -disable-postproc – -disable-a52
To compile VLC 1.0 you'll need Qt4 Dev Tools. Install it from the Synaptic Package Manager.
You can download VLC 1.0 RC1 for Linux HERE [mailman.videolan.org]
[Update 2] Download VLC 1.0 rc1 source tarballs directly from the VideoLan website
[Update 3] You can now install VLC 1.0 RC1 for Linux from the repository. Add and authenticate the following PPA to your /etc/apt/sources.list
deb http://ppa.launchpad.net/kow/ppa/ubuntu jaunty main
deb-src http://ppa.launchpad.net/kow/ppa/ubuntu jaunty main
authenticate, and update.
On the Synaptic Package Manager search for vlc . Install with its necessary dependencies.
VLC 1.0 rc1 is released under the GNU General Public License.