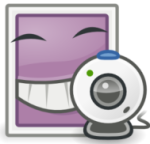 Cheese is a simple open source, Linux, webcam application that can help you take snapshots and video. Written as part of Google's 2007 Summer of Code, Cheese is almost a carbon copy of Mac OS X's Photobooth.
Cheese has as its foundation, the well known open source GStreamer library and GTK. Cheese gives an added value your webcams as most webcams don't even have to be configured. You just need to attach your old USB webcams, kick-off the intuitive GUI picture/video taker.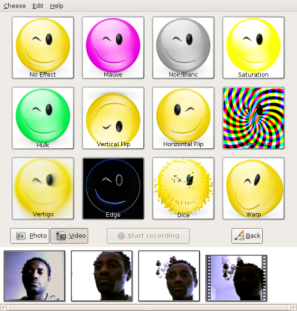 A right-click on an image or video brings forth a menu, that permits you to send taken images/video to friend via email – in Ubuntu, it opens your default email client. Thru this menu you can also delete taken images/video, open and edit with Gimp or save them on your hard disk – – images in the JPEG format, video in the OGG format.
Use the effect button to give your images/video a personal touch.
Generally Cheese does what it is meant for — even though it is rather slow in execution, and has rather poor video quality support, nonetheless, Cheese shows the usefulness of GStreamer as a background for media development.
Ubuntu, you can install Cheese from the repositories, otherwise download it.
Cheese is released under the GNU/GPL License.
[Update: July 28, 2009]
Cheese 2.27.5 was released today. You can now take as many photos as you want, automatically. Just tell it how many you want. Release notes