Ndomche Summary Theme – III column version is a CSS styling theme that is built on WordPress 2.5.
Unlike the II Column Version, it has practically 3 Sidebars – 2 on the Home or Index Page and a third one the Single Post – this way what features on the home page does not necessarily feature on the Single Post. All 3 Sidebars are Widgetized.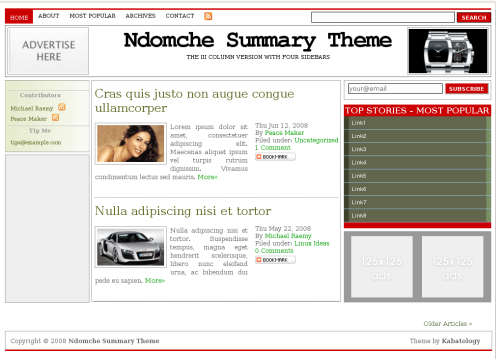 – Even though it has III columns this version of Ndomche is even lighter, as it has no images included in the structure of the theme.
– Better ad positioning; Drop your two 160×90 ads on the header, where all can see it.
– Naturally, this WordPress 2.5 theme includes Gravatars
Browser Compatibility
This theme has been tested and found compatible with the most used browsers on the web.
Windows: Internet Explorer 5.5, 6 and 7; Mozilla Firefox 2, 3; FlashPeak Slim Browser 4.0; Opera Browser 9.xx
Linux Ubuntu: Mozilla Firefox 2, 3; Opera Web Browser 9.27
Web Apps: Browsershot
Live Demo
Download
Installation
1. Download and unzip the ndomche file
2. Load the ndomche folder into your "/wp-content/themes/" folder
3. Login into your WordPress – Dashboard
4. Go to the Design tab
5. Select the Ndomche Screenshot
6. Now customize to your taste
– I cordially ask you to give credit to the author by leaving the link at the footer untouched.