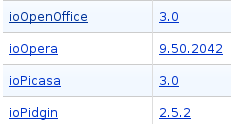 InfoDomestic Objects are light-weight, portable, no-install applications for Linux and BSD platforms. You'll find several must-have portable applications for your pendrive like ioFilezilla, ioSwiftFox, ioSongbird, ioWine, ioPidgin, ioOpenOffice, ioGimp, ioAmule etc.
After downloading your desired application, just do
chmod +x ioName_of_Application
./ioName_of_Application

In Ubuntu, launched applications place a shortcut icon on the desktop and on the top panel. Clicking on the top panel icon opens the xmessage window from where you can "Open" or definitely close the application with "Reset". The "About" button gives an overview of the application.

ioOpenOffice for example, takes just a few seconds to start-up, it opens up in a summary window – from therein you can open a document or create a new one. You can also customize ioOpenOffice from Tools -> Options just as you'll find in OpenOffice.org
Download Infodomestic Objects from SourceForge.net.