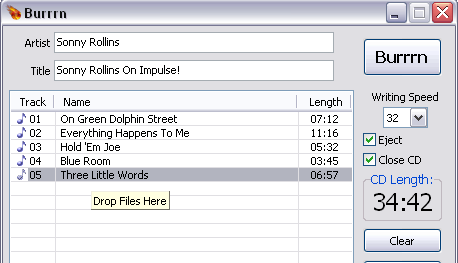 Windows-only: Burrrn is a light-weight CD only burning application that installs without writing to your registry. This makes Burrrn very portable. It is enough to unpack it to get started, you can then copy it into your external had disk or Pen Drive.
It has a simple and intuitive interface that makes it easy-to-use by dummies. It supports the following formats; wav, mp3, mpc, Ogg, AAC, mp4, ape, flac, ofr, wv, tta, m3u, pls and fpl playlists and Cue sheets(a text file that details the layout of tracks on a compact disc).
When you run it the first time you'll be asked to select a CD/DVD writer, even if you have only one. If you have more than one CD/DVD writer, from the "Settings" button you can later choose another writer. From the Settings window you can also choose your preferred language.
– Burn also includes an Uninstaller.
Burrrn is built-on the command-line open source burner, Cdrdao. Burrrn is a freeware.
Download Burrrn