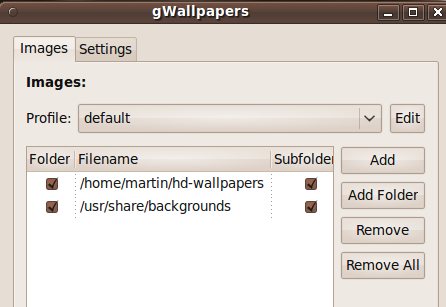 Linux: gWallpaper is a tiny application that takes wallpapers in various local folders in your Linux PC and automatically rotates them – and that's it.
To install in Ubuntu 9.10, add the gWallpapers repository to your software sources list: sudo add-apt-repository ppa:haliner/ppa, update and install with sudo apt-get install gwallpapers . Application -> Accessories -> gWallpapers to run, or Alt+F2 -> gwallpapers.
Setting up consists of selecting your wallpaper folders, choosing a time interval (in minutes) to rotate your backgrounds and launching the daemon. You can also add it to your 'Startup Applications'. Searching for wallpapers? 150 HD WallPapers for Wide Screens – or grab National Geographic Wallpapers
gWallpapers is a free and open source application for Gnome and Xfce desktop environments like Ubuntu.