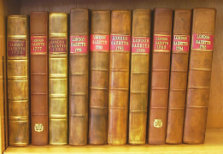 The GnomeFiles is a open source directory for Gnome/GTK+ applications. You can read a brief review of the software you're interested in and also rate it – according to how useful you found it. There is no direct download, but a link that targets the download page of the application; many of these links point naturally to SourceForge.net. To submit an application you must be the proprietor or developer -so if you want an application to be listed but you are not the owner then find out who compiled it and email-ask them to submit the application.
Open Source Living is a collection of the so called best open source applications on the web – where best should mean most used or popular applications. Software is divided into various categories such as Web++, Graphics & Photo, Video and more for a better research. If you have any interesting open source application to propose then you can do so on the site's submit page.
Qt-Apps.org is another worth mentioning open source/freeware archive. If you love to try new applications like myself – maybe because you'll like to blog about it, then this repository is for you. All the applications I've downloaded from this site are freeware with the GPL license and are made by "young" developers. Rate these applications if you have time so that others can benefit from it. I personally find it a more interesting project than the other two directories mentioned above.