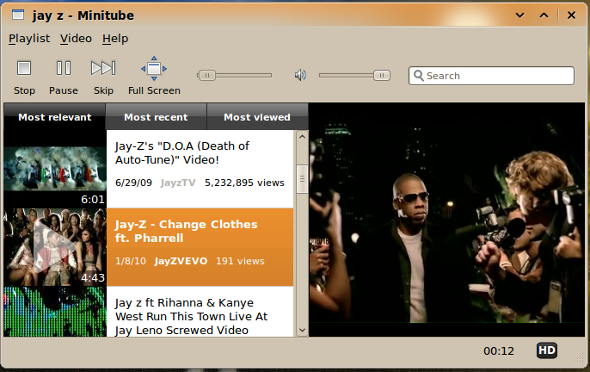 Idid a simple Google search with the keywords "flash issues with linux", well try and see what comes ups. I'll certainly prefer my Linux system to be 100% flash-free, but lets be real its not the case. Minitube and other media players with YouTube plug-ins provide a more convenient way to watch YouTube video clips and avoid "youtube crashes firefox ".
Minitube is a desktop client that fetches and plays YouTube video clips – leaving the ads behind. Its a simple, minimal and very intuitive application with full screen mode, HD viewing on/off and a right-click context menu with a direct link to YouTube. It also saves your recent keywords.
What's missing: Minitube todo list has "killer" features like; Video download, YouTube related video, accepting YouTube URLs in the search box and as CLI arg, a Windows build – for now Minitube is available only for Linux and Mac platforms, Subtitles, Saved playlists and more.
Minitube is a free download released under GNU General Public License.