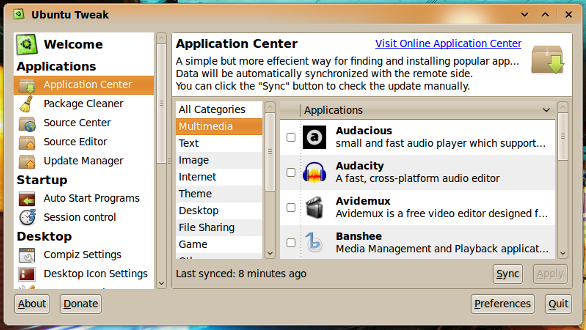 Ubuntu tweak gets an important update, its now at version 0.5.0. The last time it was mentioned on this blog was a year ago – users now get an Application Center that is supposed to be an alternative to the Ubuntu Software Center. Well Ubuntu Tweak tries to "override" Ubuntu's basic structure – that's why its a tweak, that's why some like it and others don't. Ubuntu beginners are not advised to use it, better move ahead, come back later when you're more comfortable with Ubuntu.
The Application Center comes from the realms of the old Add/Remove, but the data is synced from ubuntu-tweak.com. I installed a few application from this app center, and the download was pretty fast. Ubuntu Tweak also gets a Source Center and an Update Manager. Both are similar to the Application Center. Support for Ubuntu 9.04 and earlier versions has been dropped.
All of what Ubuntu Tweak has to offer is found and working in Ubuntu, frankly I'll refer updating my Ubuntu via the Update Manager, and installing new apps via the Ubuntu software Center CLI and Synaptic Package Manager. As for Ubuntu Tweak, use it to install Nautilus Extensions.
via [Ubuntu Tweak Blog ~ Ubuntu Tweak 0.5.0 released!]