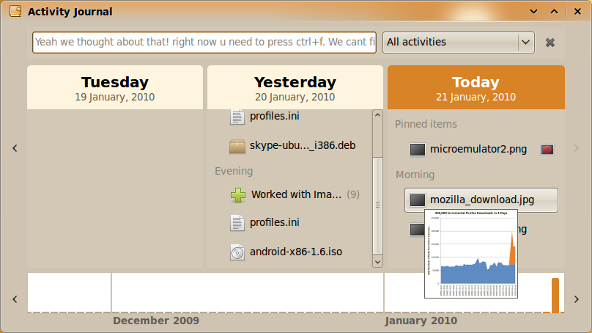 GNOME Activity Journal is a nascent but promising tool for the Gnome desktop environment (Ubuntu, openSUSE, Mandriva etc ) that provides a simple User Interface to browse and find files on your computer.
Formerly known as GNOME Zeitgeist, Activity Journal obtains readily available information from the Zeitgeist engine – a daemon that chronologically logs the user's events and activities like when you open a file, view a web page, play music, watch a video or when you click-to-install a Deb package. "Since Zeitgeist is a log and not a snapshot of your environment", it keeps the information around even when you delete files or detach your storage devices.
Installation on Ubuntu Karmic and Lucid

sudo add-apt-repository ppa:zeitgeist/ppa
sudo aptitude update
sudo aptitude install gnome-activity-journal

You'll find it at Applications -> Accessories -> Activity Journal.
While this very first release only supports basic browsing of file activities, you can pin items – a right click on an event and 'Pin to Today'. It also supports image preview. Still experimental is the Tracker (sudo apt-get install tracker) based search, use Ctrl+f to bring out the search bar.
TODOS – Features in progress include; Displaying web browsing history in the journal, Search and interaction, Tags, Detailed single-day view showing relationships between files and Removing activities from the journal.

Download GNOME Activity Journal