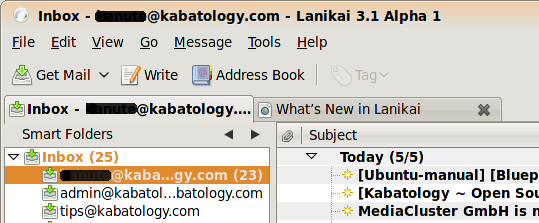 For Windows, Mac, Linux: Thunderbird, the open source desktop e-mail client reaches another important milestone. The first alpha of Thunderbird 3.1 has just been released. The Thunderbird team wants to align its development cycle more closely with that of the Firefox web browser, so that Thunderbird can better leverage the constant stream of improvements that the Firefox development community is making to Gecko and other components that are shared between Firefox and Thunderbird.
Thunderbird 3.1 Alpha 1 is built on the Gecko 1.9.2 platform. Though considered stable with 147 fixed bugs it is not for production desktops but developers and members of the testing community. Evclassent in this release is the presence of a Download Manager as a menu item. Use Ctrl+j to open it, or Tools > Saved Files.
Other changes include:
Several improvements to IMAP.
– Several fixes for Smart Folders, message filters, and attachment handling.
– Several design improvements and corrections to the interface.
– Stability and memory improvements.
Thunderbird 3.1 Alpha 1 is available for download – for all platforms: Mac, Linux and Windows. It is packed in 23 different languages. For more on the first development release of Thunderbird after 3.0 move to the project page and Release Notes.