The Document Foundation is announcing the release of LibreOffice version 4.0. Libreoffice is a forked version of OpenOffice with a very active developer community contributing to it.
During the last seven months, since the branch of LibreOffice 3.6 and during the entire development cycle of LibreOffice 4.0, developers have made over 10,000 commits. On average, one commit every 30 minutes, including weekends and the holiday season: a further testimonial of the incredible vitality of the project.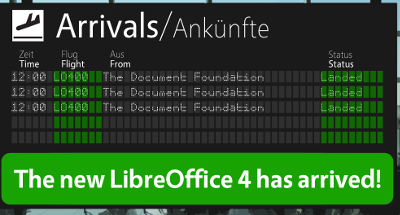 Now a quick guide to installing LibreOffice on your Ubuntu.
Copy and Paste code below into the terminal
sudo add-apt-repository ppa:libreoffice/libreoffice-4-0
sudo apt-get update
sudo apt-get dist-upgrade
Same procedure can be used to install LibreOffice 4.0 in Ubuntu 12.10 and 13.04. LibreOffice is a freely available office suite for all platforms and a viable alternative to Google Docs, Microsoft Office etc.