The fourth alpha release of Ubuntu 8.04 bundles up many new features and changes. Ubuntu Hardy Heron gives up the problematic Gnome BitTorrent and adopts the GTK version of Transmission BitTorrent client as its new file downloader.
Transmission is a feather weight BitTorrent client with a very easy-to use interface for those new to the BitTorrent file transfer/P2P system.
On Debian you can try it out with transmission-cli which is a  command-line  version of Transmission.
I did not want to wait for the final version of Ubuntu 8.04 that comes out in April 2008 to lay my hands on transmission so I moved on to install it in my Ubuntu Gutsy Gibbon (Ubuntu 7.10).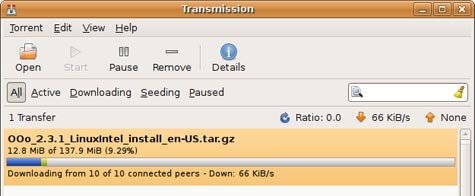 To install it from the repository together with all its dependencies do
sudo apt-get install transmission
or
sudo apt-get build-dep transmission
DIY: To Compile and install Transmission, download the source codes and run the following commands:
tar jxvf transmission-1.05.tar.bz2
cd transmission-1.05/
./configure
$make
$make check
$make install
To run Transmission, goto your terminal and type-in
$ transmission
or get it from Applications => Internet => Transmission
Whilst waiting for Ubuntu 8.10 and its new packages, Happy Torrenting !!!!