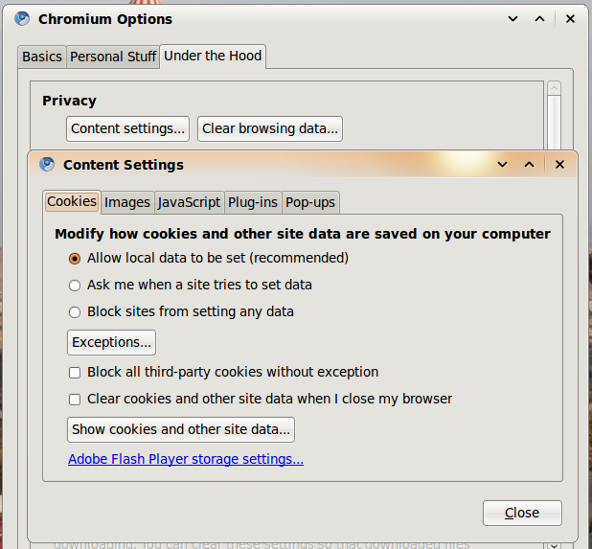 Bleeding edge Chromium browser daily builds for Linux/Ubuntu update comes with bug fixes and some new features, the Content Settings window takes center stage. This also means its just a matter of time and this new feature will be available in Google Chrome for Linux Dev channels. The Content Settings dialog in the options menu is divided into five tabs Cookies, Images, JavaScript, Plug-ins and Pop-ups. They give you better control of contents from web sites, these tools let you filter content from web pages.
For example, you can enable an option that clears cookies when you close the browser, a feature that's available in many other browsers. Other features let you disable images, JavaScript or plug-ins for a list of sites. If these settings are exposed via an API, developers will be able to build extensions like NoScript.

Chromium browser will display an icon in the address bar if a script is blocked on a website. In the screenshot above, I set Chromium to block all images on web sites. On Google's homepage the Vancouver Olympic image is blocked and the icon in the red block says exactly that.
If you're brave enough yo try Chromium Daily Builds, then drop this in your Software Sources; ppa:chromium-daily/ppa

sudo add-apt-repository ppa:chromium-daily/ppa
sudo apt-get update
sudo apt-get install chromium-browser.