Why not be grateful to VLC Media Player – because when it comes to video nothing is ever easy as it should be, yet this media player with an open source background is doing much to make it easy. It is constantly updated, improved, with new features coming up.
It supports playback of most of the renounced audio and video formats out there like MPEG-1, MPEG-2, MPEG-4, DivX, mp3, ogg, not forgetting DVDs, VCDs and even streaming protocols.
It also functions as a streaming media server.
On Ubuntu it takes nothing to get it installed and running
From a terminal type:
$ sudo apt-get update
$ sudo apt-get install vlc vlc-plugin-* mozilla-plugin-vlc
This command installs VLC and the necessary plugins for Mozilla firefox.
You'll have to restart Firefox to complete the installation of this plugin.
To run this media player go to
Applications -> Sounds & Video -> VLC media player.

The VLC interface varies from platform to platform, but in general the default interface is very skinny, if you don't mind it then go ahead and enjoy your full-functional feather weight media player. If you prefer to skin it, there several skins out there but remember the skinned version is a little bit unpredictable and confusing.
I skinned mine to look like Windows Media Player. To do so (the procedure is same for all skins) download the WMP11 skin from the skin page.
From the command-line do
vlc -I skins2
This commands brings up a very skinned player, right click on the tittle bar area and move to Select skin -> Open skin. Then choose the downloaded skin file.
The outcome would look like this;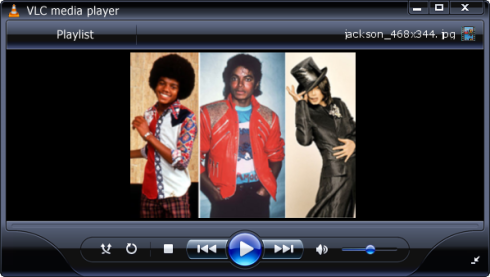 Update: There is also a portable version of VLC Media Player (done by PortableApps.com), so you can pack-up into a portable hard drive or Cd, both your audio/video files together with the media player and use it on the first Windows PC you come across.