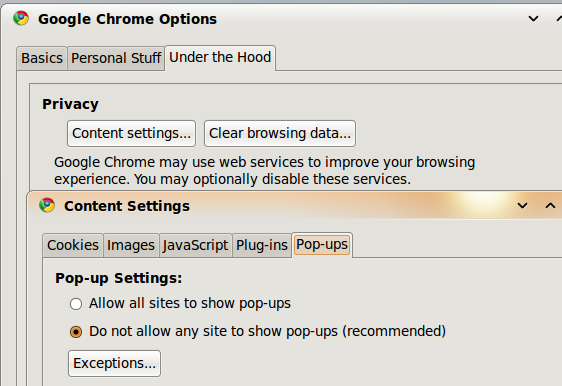 Google Chrome Dev Channel updates to version 5.0.335 for Windows, Mac, and Linux platforms, this update comes with fixes issues regarding the new Content Settings window. Windows, Linux and Mac platforms support "cache-bypassing reload" that is hooked to various accelerators on different platforms for example shift-reload, ctrl-reload.
Other fixes for all platforms include; Fixed crash when alert is called from extension popup, when a single tab is open, "Close other tabs" in context menu option are now grayed out, remove all infobars from a tab when its renderer crashes. More, fix crash adding/deleting bookmark/folder when browser sync is on and the network is not available, do not send extra blur and focus events if popup menu is showing and fix crash when dragging bookmarks.
Linux users of Google Chrome Dev have these to gain; Fix crash with some extensions, fix crash when editing a bookmark in the bookmark manager, implemented the new AutoFill section of the Options dialog. Google Chrome Dev for Windows also gets specific fixes; "fixed a crash when installing an extension from incognito mode".
For more details on this update, move to Google Chrome Releases. If you want to try the Dev channel, get it here