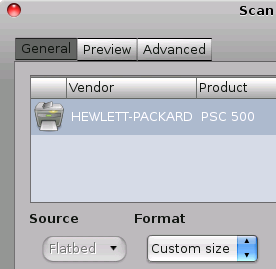 Ubuntu: Before getting too frustrated with XSane, the in-built graphical front-end of SANE (Scanner Access Now Easy) why not try Flegita, also called Gnome Scan. Originally launched as a proof of concept during the 2006 Google Summer of Code, Gnome Scan has no real back-end support, but its a good alternative to the XSane UI (User Interface) — it is fast and provides just a single window as UI for your home or office scanners and is intuitive enough for dummies. [See Sceenshot] – Moreover it also integrates in other apps like the GIMP Image Editor.
To substitute XSane with Flegita, uninstall XSane but remember Flegita needs the SANE API back-end, so let it be.
Uninstall XSANE: $ sudo apt-get remove xsane
Install Flegita and plugin for Gimp:
$ sudo apt-get install flegita flegita-gimp
After the installation, run Gnome Scan as standalone with $ flegita. Do not need your root account.
or Applications -> Graphics -> Scanner Utility
The Flegita-Gimp plugin permits you to scan directly into a new Gimp layer and is definitely a better choice to the Flegita standalone. This way you can take advantage of the many graphic manipulation features Gimp puts at your disposal. You'll find it at Gimp: File -> New -> Scan
– It opens up with the same single three-tab Window as the standalone.
– Flegita sets default resolution at 96dpi, all changes last only for that working session, so each time you start it, remember to reset to your preferred resolution. You'll find the resolution scroll-bar at the "Advanced" tab
With Flegita and "hpoj" it took me just a few minutes tosetup my old parallel port HP PSC 500 All-in-one Printer to print and scan.
via [Gnome Scan]