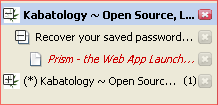 This is a Firefox extension that organizes your Firefox tabs in a folder-tree-like order, to help you keep track of the order you opened the tabs whilst navigating.
It could be very necessary when you open too many tabs as the sub tabs are indented under the major one. So if you often get lost in the many tabs you've opened and
can't find the relationship between the various tabs then grasp this tabs and walking your way back to the start would be very easy.
To install Tree Style Tab, you need to follow the famous three step process for installing Firefox plugins.
1. Get the Firefox Tree Style Tab extension
2. If you have default security settings on your browser, you should be asked for a "permit" to use this extension. After adding this site to the list of Trusted sites, click Install Now.
3. Once successfully installed, you'll be asked to Restart Firefox.
After the installation, you can further customize it even though the default features could be just ok.You could place your tabs on the right/left and more.
This add-on is free for all platforms with Firefox, and is also compatible with Firefox 3 beta 3