Fear not the Terminal; The terminal is often seen by many as — for geeks only, but often it the fastest and easiest way to get things done and to get to the core of a problem. This said, the Terminator terminal is a simple application that helps to boost up the use of the command-line. Often one ends up opening over four terminals that crowed up your gnome-desktop; With Terminator it would no longer happen as Terminator splits up its terminal window into multiple terminals in the same window.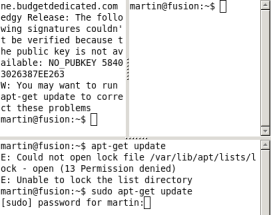 The fastest way to install terminator for now in the Ubuntu family is to download the .deb package and manually launch the installation. It is an unsigned package, so you'll get a "warning" that comes with all unsigned packages.
Then carry out sudo update-manager on Terminator, you'll find it at Applications-> Accessories-> Terminator. This would launch the front-end Update Manager and you'll be asked to eventually update Terminator to the most recent version i.e. version 0.8.1-0ubuntu1

The right-click menu gives you "split vertically", "split horizontally" or "close"- that closes the desired terminal window.
via [Terminator]