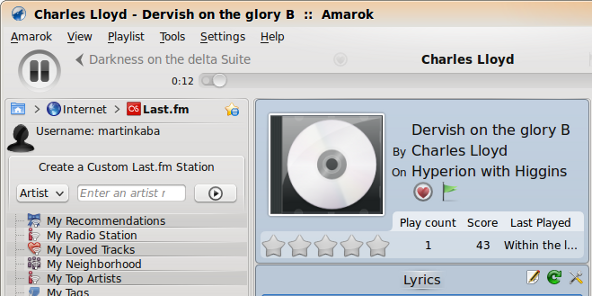 The open source music player Amarok takes a big leap from version 2.2.2 to version 2.3.0. Amarok 2.3 codenamed "Clear Light" comes with many bug fixes and several noticeable changes that made its developers opt for a new label name that skips the nomenclature. The new condensed experimental main toolbar displays only one control button at a time – the next and previous control buttons display the names of the respective track. The old slim toolbar is still available at View -> Slim Toolbar.
Other improvements have been made to the context menu of tracks in your playlist. They now offer a "show in media sources" option that makes it easier for you to get to the origins of a given tack or tracks. Podcast and saved playlists can be grouped by source. Amarok 2.3.0 also includes an Equalizer, Tools -> Equalizer, but this feature needs KDElibs 4.4 for it to work. It also has better support for USB mass storage devices.
Amarok's file browser made it possible for you to move, delete, and copy music files directly it, now in v2.3.0 you can also find and play music directly from it.
Ubuntu Karmic users can use this backports PPA to quickly install Amarok 2.3. – KDE 4.4.0 is also installed
Run in a terminal:
sudo add-apt-repository ppa:kubuntu-ppa/backports
sudo apt-get update
sudo apt-get install amarok

Amarok is released under version 2 of the GNU General Public License. The official release notes are available here