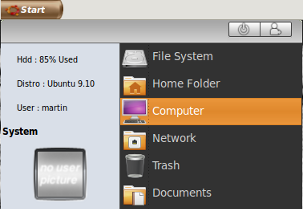 Eye-candy, theme-driven Applications Menu, GnoMenu updates to version 2.5 with lots of bugs fixes and a new theme called iTheme, see screenshot above. GnoMenu 2.5 also improves gtk theming, its now smoothly continuous than ever before, those who have used previous version will certainly notice that.
You'll also get a notification bubble when you add new items to the favorite list, needs libnotify – ça va sans dire, make use of the right-click menu to quickly add items to the favorites list.
GnoMenu is available in the Launchpad Repositories, its a free download for Gnome desktops like Ubuntu – it is released under the GNU/GPL license.