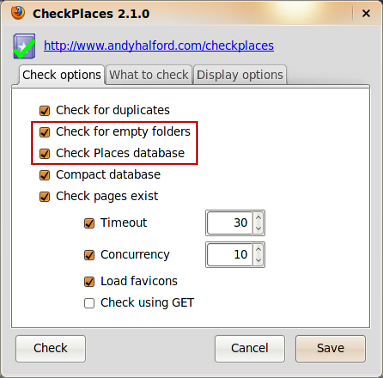 CheckPlaces Firefox extension was originally built to clean-up your Firefox bookmarks by detecting and deleting duplicate bookmarks, empty folders and dead or failed (invalid) web pages. CheckPlaces version 2.1 now has the option to compact and optimize your Firefox databases, vacuuming is now part and parcel of this must-have Firefox extension.
You can vacuum your Firefox databases for better performance by dropping this line of code in Firefox's Error Console or by using the Improved Vacuum Places extension for Firefox 3.5 and higher versions – two vacuuming methods mentioned sometime ago on this blog. But with CheckPlaces you can defrag your SQLite databases whilst removing bookmarks duplicates, empty folders and load your missing favicons.
Version 2.2 of CheckPlaces is now available for download, grab it Here. It displays more details for bookmarks, expanded 'Duplicates' display includes bookmarklets and searches.