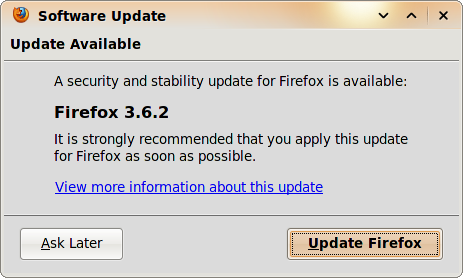 Firefox 3.6.2 security and stability update has been released for all platforms, you can download the new version from the Mozilla website or simply update your current Firefox 3,6, yes Firefox 3.6. Now, don't think you missed Firefox 3.6.1, it was never released, Mozilla skipped "the version number of Firefox 3.6.1 in order to stay in sync with platform".
Anticipated Firefox 3.6.2, scheduled for March 30 is built on Gecko 1.9.2.2, it fixes 111 bugs, 21 of these bugs are considered critical by Mozilla developers. One of the fixed bugs if exploited could potentially allow remote code execution.
Firefox users are invited to update to Firefox 3.6.2 to avoid attacks that exploit these vulnerabilities, now that we all know the weak points in Firefox 3.6. Do Help -> Check for Updates, and obtain a safer open source web browser.