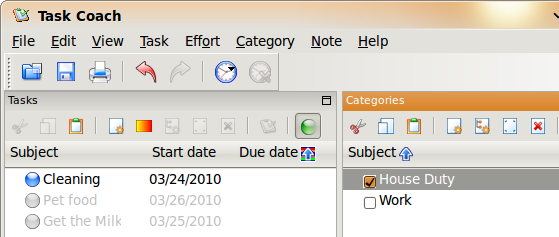 Task Coach is an open source to-do application that improves calendar systems by adding composite tracking of tasks and events – with date and time for each task, and reminder. You can add a task by simply dragging an e-mail message from Outlook or Thunderbird onto a task viewer. Task Coach also takes detailed descriptions for entries, URLs and more – it is also the capable of assigning to each job a priority and a color. Recently released version 1.0 amongst many other new features tries to render the applications user interface more intuitive – it can be viewed as a list or as a tree.
Features currently in Task Coach 1.0
Tasks can be sorted by all task attributes, e.g. subject, budget, budget left, due date, etc.
Task status depends on its subtask and vice versa.
Tasks and notes can be assigned to user-defined categories.
Settings are persistent and saved automatically. The last opened file is loaded automatically when starting Task Coach.
The Task Coach file format (.tsk) is XML.
Tasks, notes, effort, and categories can be exported to HTML and CSV (Comma separated format). Effort can be exported to iCalendar/ICS format as well.
Task Coach can be run from a removable medium.
Tasks and notes can be synchronized via a Funambol server such as ScheduleWorld.
Task Coach GUI is written in Python – the task manager is available for Windows, Mac OS X, Linux, and iPhone and iPod Touch. Task Coach Portable 1.0.0 is also available for Windows systems. It's released under GPLv3 license.