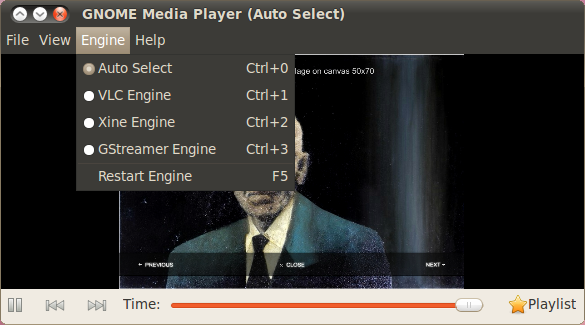 Linux users have a whole bunch of free media players at their disposition, from popular media players like VLC to less popular like whatever,, they often use the same codecs but never use the same user interface, their peculiarity often lies in the UI. Different media players are good at playing different media types, VLC for example, out of the box reads almost any media format out there, but you'll still need GStreamer for many practical purposes like recording and converting stream audio and video.
Gnome Media Player puts together three powerful engines libvlc, xine-lib, libgstreamer – Xine, VLC and GStreamer into one media player, so you don't have to switch between media players in-front of a different media type, or learn to use different user interfaces but simply switch from one engine to the other. If set to the 'Auto-Select' mode in 'Engine' it will automatically select for you the right engine.
The UI is simple, like that of the VideoLan player, it supports double-click-to-fullscreen, has no volume control, has a playlist that loops and can use the mouse scroll wheel. To install on your Ubuntu Karmic or Lucid, do;

sudo add-apt-repository ppa:gnome-media-player-development/development
sudo apt-get update
sudo apt-get install gnome-media-player

Gnome Media Player is still at its early stages, handle with care.