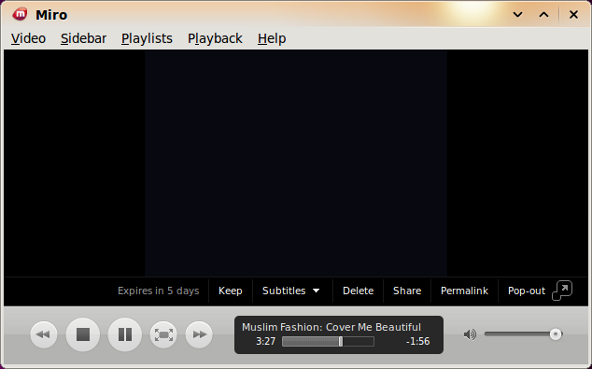 The open source cross-platform Internet TV, Miro, has been updated to version 3.0 – with many new entry features like subtitles, that users can select from the drop down menu or load their own external subtitle files, higher max volume 2x/3x, play-externally right-click menu. Miro 3.0 is also faster than previous version, its said to be over 150% faster.
The Miro team is happy to announce a totally new application called Miro Video Converter which lets you convert your video to an open format; MP4, Ogg Theora or for a specific device like an Android phone, iPhone, iPod, or PSP. Unfortunately for Linux users, this video converter is available only for Windows and Mac platforms.
Miro 3.0 comes with a new user guide – it is available for download for Windows, Mac OS X and Linux – Deb or RPM packages are not yet available, you'll have to compile the source codes.
To compile and build Miro in Ubuntu 9.10, download the source tarballs and extract, cd into the gtk-x11 folder.
To avoid dependency issues do;
sudo aptitude install build-essential git-core pkg-config python-pyrex \
xulrunner-1.9.1-dev python-gtk2-dev now run with ./run.sh. The Miro source code is released under version 2 of the GNU General Public License (GPLv2). More in the release notes.
Update: 1
Miro is now available for Lucid and Karmic Ubuntu versions via the repositories (PPA).
Paste unto your terminal
sudo apt-add-repository ppa:pcf/miro-releases
sudo apt-get update
sudo apt-get install miro

Run Miro from Applications -> Sound & Video -> Miro Internet Tv