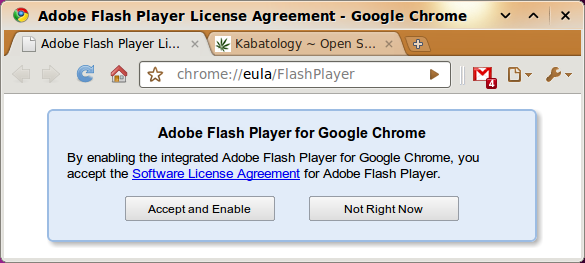 [Updated]
Google Chrome Dev channel has been updated to 5.0.360.4 for Windows and Mac and 5.0.360.5 for Linux. Google in this update has taken many by surprise by integrating Flash to the Chrome browser. For now you need this command-line switch to enable the Flash plug-in; --enable-internal-flash, but not long from now all Chrome versions will have flash by default.
The Chromium blog explains why they (Google) took this initiative in a time when all browsers are talking HTML 5
When users download Chrome, they will also receive the latest version of Adobe Flash Player. There will be no need to install Flash Player separately.
Users will automatically receive updates related to Flash Player using Google Chrome's auto-update mechanism. This eliminates the need to manually download separate updates and reduces the security risk of using outdated versions.
With Adobe's help, we plan to further protect users by extending Chrome's "sandbox" to web pages with Flash content.