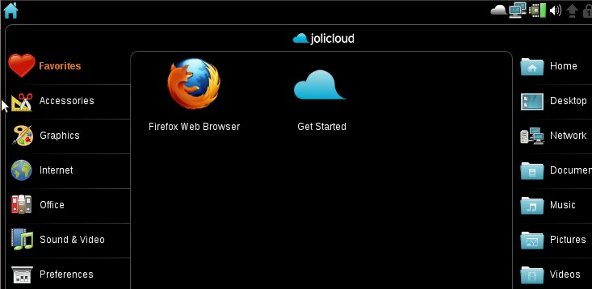 Jolicloud, the Ubuntu based Linux distribution for netbooks is now HTML5 ready, the Jolicloud team ditched Mozilla Prism web app rendering engine for a customized version of Chromium with HTML5 capabilities, and h.264 video codec support. They named their customized Chromium 'Nickel' and freed its source codes.
Jolicloud Robby also comes with a new desktop mode switcher which allows you to switch between the netbook mode and the new desktop mode – for those with screens bigger than 11 inch.
Much work has been done to improve 3G support in Jolicloud. Being a cloud-based OS for 'portable' netbooks, what sense would it make if 3G modems aren't supported – developers say it now supports over 100 different 3G keys. Robby Pre-Final has a new network manager, and a wizard that guides you through the configuration of your 3G key. Jolicloud release also comes with VPN support.
What else: Jolicloud is no longer a beta, its faster with a low memory footprint. Firefox is still the default web browser. Download it and enjoy the over 600 web apps available in Jolicloud's App Center.
via [The Jolicloud Blog]