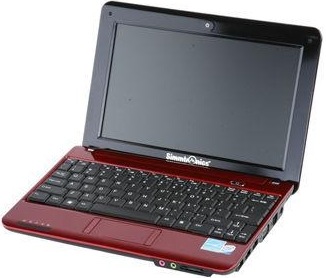 Simmbook netbook is the result of a partnership between Simmtronics, IBM and Canonical. Simmtronics brought to the table its netbook, that needs publicity, IBM
came along with it's Client for Smart Work, including Lotus Symphony and various cloud-based services – Canonical drops the OS, the netbook will run on Ubuntu Netbook Remix.
Designed specifically for mobile computing, Simmbook netbook has standard netbook specifications, its equipped with a 1.6 GHz Intel Atom N270 processor, 1GB RAM, 160GB HDD, a 1.3 megapixel camera, 10-inch display, three-cell battery, more specs Here
The Simmbook will be initially available off-the-shelf in African countries, India, Thailand and Vietnam, with other countries to follow. Its price tag just $190 is also symbolic – Simmbook tries to get low-cost computing into emerging markets.