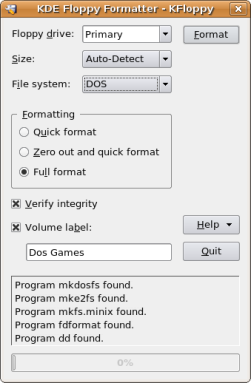 Whilst the DOSBox helps you revamp your old and dusty DOS games, Kfloppy is an intuitive, graphical utility that helps you format your 3.5" and 5.25" floppy disks so that you can eventually load them, for example, with a small GNU/Linux OS, a small DOS game or better still, you can create installation diskettes for certain firewalls available only for the floppy and more.
There are so many reasons why you might have to format and render usable your "old memory".
To format, choose the dimension of the floppy, its filesystem – – DOS, Ext2, Minix, give it a Label anddecide if you prefer a fast or a complete Format.
Kfloppy was originally complied for the KDE Desktop, but it also has .deb packages for Ubuntu 7.10 and 8.04. It is can be quickly installed from the repositories with
sudo apt-get install kfloppy
Kfloppy is licensed under the terms of the GNU General Public License.