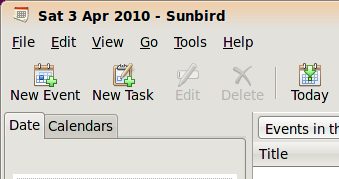 The good news is that the Calendar Project has finally delivered the standalone cross-platform calendar application Sunbird 1.0 beta 1, the bad news is that its going to be the last release of Sunbird from the Calendar Project – the team will focus its development efforts entirely on the Lightning extension that tightly integrates Mozilla's Sunbird calendar into the cross-platform desktop email client Thunderbird. It took the team 18 months and nearly 500 bug fixes to get Sunbird 1.0 beta 1 out.

Whats new in this release; single events now accept multiple alarms, improved CalDAV support and interoperability with various CalDAV servers and, memory consumption performance and stability issues have been addressed in this release.
So whats going to be the future of Sunbird? Many argue strongly that moving focus from standalone to Thunderbird-integrated is a sad mistake, standalone calenders are necessary. Some users have proposed a 'Calender Mode' for Thunderbird via the Lightning add-on that when selected will present a calendar-only user interface that keeps e-mail features out of the way until when you need them. So you can practically switch between Calender and e-mail.
What ever the outcome you are not left cold, there are countless standalone desktop calenders out there, open source Spicebird for example. If you currently use Sunbird whats going to be your next choice, let us know in the comments.
Sunbird 1.0 beta1 is available for Windows, Mac OS X, Linux 32bit and Linux 64bit.