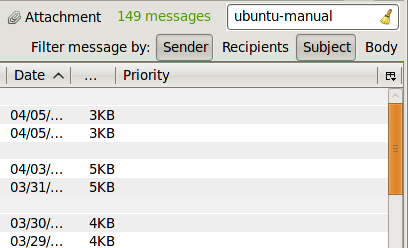 Click to enlarge
Quick Filter is an extension for Thunderbird 3 that adds easy email filtering capabilities to the email client. The extension tends to recall the old quick search system of Thunderbird 2.0 but with more features. It adds an extra toolbar with Unread, Starred, Contact, Tags, Attachments search message types. With better search filter types; sender, recipients and subject that are no longer hidden in a pop-up menu but are well outlined in the toolbar, its easier to know what kind of search you are performing.
Good too is that you can render permanent your filters and re-use them on other folders. Just poke "keep filters applied when switching folders".
Yes, Quick Filter is good, but its toolbar is cluttered with too many filter-options, it has to be simplified, since Thunderbird 3 already has a "complex" search feature with an intelligent filtering interface. If you use a different theme order than the default Thunderbird theme, filter types (sender, recipients, subject and body) might not be highlight-able.