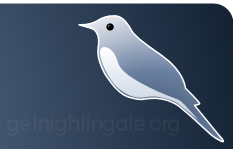 A few days ago the Songbird team announced that they were no longer going to build Songbird officially for Linux desktops and, promised that they'll continue to release untested Linux builds of Songbird.
As it often happens with dropped open source projects, someone sooner or later grabs the opportunity – a group of Songbird contributors and enthusiasts has announced that they'll continue to build Songbird, under the name Nightingale.
So here we are, Songbird is no more supporting Linux platform, so wedecided to create our own version, supporting Linux first, but also Windows and Mac OS X later…
We had a long debate for the name of our project, and it's now chosen : Nightingale.
Not much is available right now, no download-able packages of Nightingale are available – there's a wiki, a blog, and a forum. Good Luck!!!