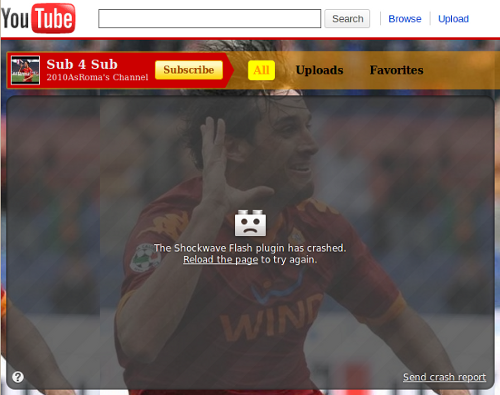 The bottom-line is when the Flash plug-in crashes or hangs, (in Linux it does so often), it won't bring down your Firefox browser anymore. Firefox 3.6.3 codenamed Lorentz handles Adobe Flash plug-in like Google Chrome browser. YouTube fans, download and try this experimental beta release, you'll quickly notice the difference – when flash goes down, Firefox stays up and you'll be asked to reload the page (see screenshot above).
So the big feature of Lorentz, is out-of-process plug-ins (OOPP), which isolate execution of Adobe Systems' Flash, Apple's Quicktime and Microsoft Silverlight into a separate computing process from the main browser process.
A recent report says Firefox 3.6 is 30% more stable than Firefox 3.5, Firefox 3.6 has seen a 40% stability improvement since its initial release (from about 6.5 crashes for every 100 users, to around 2.5) (via Mozilla Links), when you consider that a significant percentage of crashes in Firefox are caused by Flash, then Firefox has much to benefit in terms of stability with OOPP.
Download Firefox 3.6.3 'Lorentz' from the Mozilla developer pages, its available for all platforms.