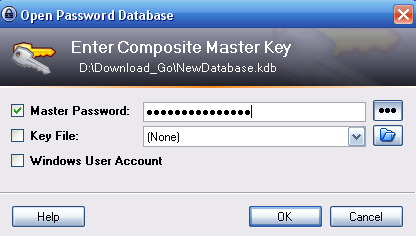 KeePass, the free open source password manager and locker has released version 2.7 Beta for your thumb drive and Windows desktop.
KeePass locally secures your passwords with a single master password and/or a key-file on your PC.
Prerequisites: Microsoft .NET Framework 2.0+ or Mono 2.2+

KeePass 2.07 is said to backward compatible i.e. with KeePass 2.7 Beta you can open your databases created with KeePass 2.06, but given that the database file format has been modified/improved you can't open databases saved with KeePass 2.07 beta with KeePass 2.06 or less.
Many changes or improvements have been made from version 2.6 to 2.7. many of which are bug fixes and new features like;
– The master key dialog now appears in the task bar.
– Improved master password validation in 'New Database' dialog.
– The global auto-type hot key has been suppressed.
– Added recycle bin (enabled by default, it can be disabled in the database settings dialog).
Linux/Ubuntu fans can use the less featured KeePassX, — it's less desktop and more database, and certainly more efficient.
– Both KeePassX and KeePass use the same database format