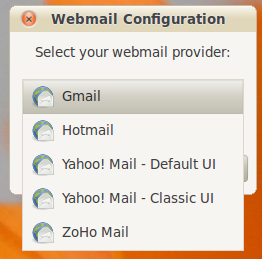 You've probably moved to Ubuntu 10.04 Lucid Lynx, now beta 2, and already tweaking and personalizing your OS with necessary utilities. Now grab Desktop Webmail and gain quick access to your
Gmail
, Hotmail, Yahoo and ZoHo e-mail accounts via its (Desktop Webmail's) pop-up dialog (see screenshot above). After installing Desktop Webmail (
sudo apt-get install desktop-webmail
) set-it-up as your default e-mail client in System -> Preferences -> Preferred Application – > Mail Reader, replacing Evolution,
Thunderbird 3
or whatever e-mail client you have as default.
Now each time you click on an email link in your web browser, 'Webmail Configuration' will there to guide you to your preferred webmail provider: Gmail, Hotmail, Yahoo or ZoHo. If you save your e-mail passwords in your default browser, then you'll be taken directly into 'Compose mail'.
Desktop Webmail remembers the last email account you entered, if of the four options, you're interested in only Gmail, for example, then untick the 'Ask again' check box – the next time you click on an email link you'll be taken directly to 'Compose mail' without passing via 'Webmail Configuration'.
You can configure Desktop Webmail to support "Google Apps for email", edit desktop-webmail.ini in ~/.config/desktop-webmail to looks like: default-url=https://mail.google.com/a/your-domain-here.com/mail/?extsrc=mailto&url=%s
via [jorge's stompbox]