Gnote, the mono free Tomboy clone, finally gets in-built synchronization. Though the home page of the Gnote project still says "Synchronization support is being worked on", automatic synchronization is present in Gnote v3.7.2 build. Ubuntu 12.10 Quantal, and Ubuntu 13.04 Raring have Gnote Unstable PPA's that can be used for a smooth installation, maybe not a production unit. Source code is also available for the DIYs.
sudo apt-add-repository ppa:gnote/ppa-experimental
sudo apt-get update
sudo apt-get install gnote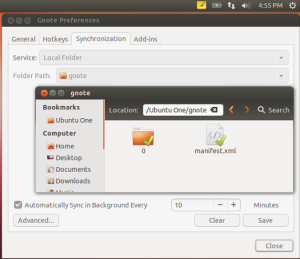 Synchronization can be done across your Ubuntu's using local folders like that of Ubuntu One or a dedicated WebDAV server. In Gnote Preferences,Synchronization tab select as Service the Local Folder . Write in the path to your Ubuntu One self-created "gnote" folder. See screenshot . Repeat wherever you can have Ubuntu One and Gnote together. Then Sync.