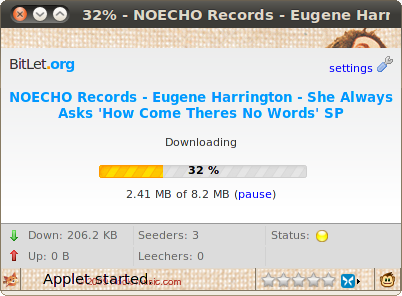 BitLet is a web-based BitTorrent client that makes BitTorrent available to the occasional user, and to those who can't install a regular BitTorrent client like µTorrent or Transmission on their computers. No configuration is needed to use BitLet, just drop-in the URL of the torrent file and you'll get a pop-up window that shows the download speed, download bar, number of seeders, and a download status led that signals potential problems. (see screenshot above). Anyway if you default settings are not OK for you, then go to BitLet Settings where you can modify BitLet's incoming connection port and maximum upload rate.
BitLet's code generator offers to publishers, blog owners, an easy way to offer BitLet links (BitTorrent files) to their readers from within their web pages like Miro Internet Tv does.

The BitLet 4 Chrome extension for Google Chrome makes downloading BitTorrent files easy with the Chrome browser. Once installed, Chrome detects all the links to torrent files within the pages you're browsing and it will make those links open BitLet's download pop-up, allowing you to start downloading in a click.

BitLet also offers torrent powered video streaming. Of course no installation is involved. Your playback experience has a lot to do with your participation. Its "new" video player leverages the HTML 5 video tag supported by modern web browsers like Firefox 3.5+, Safari 4+ and Google Chrome. Sample video are available for you to try out. Instruction are also provided for those who want to distribute their video through the service.
BitLet uses the Sun Java platform, it runs on any browser that supports the Java Plug-in and alternatives like the icedtea6-plugin based on OpenJDK.