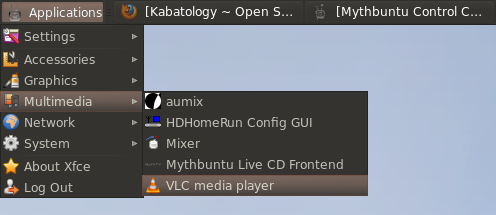 Mythbuntu 10.04 like the other members of the Ubuntu family is quickly approaching its final release. Mythbuntu also known as Ubuntu with MythTV Media center is a community supported operating system that focuses on setting up a standalone MythTV based PVR (personal video recorder) system. The development cycle of Mythbuntu closely follows that of Ubuntu, releasing every six months along side Ubuntu releases.

Mythbuntu 10.04 release candidate is jammed with new stuff, while its compatible only with MythTV 0.23 systems (previous release can be upgraded), it's got better integration with services like upstart and consolekit. New plug-ins have been added to Mythbuntu Control Centre, and MythTv has a new theme, ArcLight.
Mythbuntu 10.04 'Lucid Lynx' release candidate is built on top of Xfce 4 Desktop Environment version 4.6.1, it includes Mozilla Firefox 3.6.3, Thunar File Manager 1.0.1, and VLC media player 1.0.5 Goldeneye.
To test it on your Ubuntu, download and install mythbuntu-repos – it installs and configures the Mythbuntu repos for you. It includes weekly builds (fixes or trunk depending on user input), and testing (depending on user choice during install). Update and install MythTV with sudo apt-get install mythtv – both MythTV Frontend (Applications -> Sound & Video -> MythTV Frontend) and Backend (System -> Administration -> MythTV Backend Setup) are installed together with the new ArcLight theme, mythtv-database, several other themes and dependencies.
You can also run Mythbuntu Frontend from a Live CD if you already have a MythTV backend available on your network.
– MythTV Frontend opens up in fullscreen use ALT+TAB to switch between applications.
– MythTV's Arclight theme background, with those pixels might not be an error, but an intended mosaic effect.