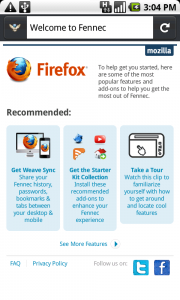 Mozilla's Firefox-mobile browser, "Fennec" now has a pre-alpha version for Android devices. This early build is aimed at getting feedback from the community. According to the developers, Fennec "Android" has been tested only on the Motorola Droidand Google's Nexus One.
Whilst some bugs might cause your phone to stop responding, requiring a reboot, and memory usage of this build is not at its best, you can get a taste of sync with an experimental version of Weave Sync (click Experimental version)
Fennec pre-alpha has no automated updates – to upgrade to future version you'll have to uninstall it and re-install the newer version. This build requires Android 2.0 or above, and likely an OpenGL ES 2.0 capable device. Hit the link below to download it on your Android driven OS or simply type in this address in your phone's browser: bit.ly/fennec-android.
via [blog.pavlov.net]