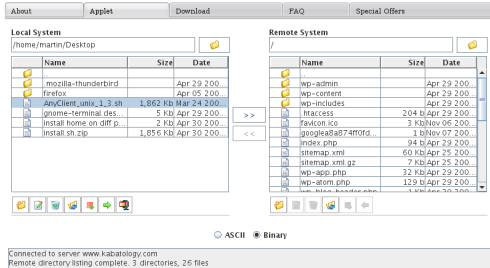 If you suddenly need an FTP client, maybe your friend needs a hand, and you don't have your usb key with one of those portable FTP clients on it, then you'll certainly go searching Google for one. Fortunately there are many out there, starting from Filezilla, the most renowned Open Source FTP client, to others like FireFTP – an extension of the Mozilla Firefox browser.
With these two free FTP clients, you'll certainly have to go through the time consuming installation process; with AnyClient – a browser based FTP client, you just need to visit the web page to get started; provided you have Java installed on your Linux box. You can save your sites profile and revisit it later.
AnyClient is free and supports FTP, FTPS, SFTP and WebDAV clients. If you find it optimal, then download the free, installable version available for Windows, Mac OS X, and Linux/Solaris platforms.