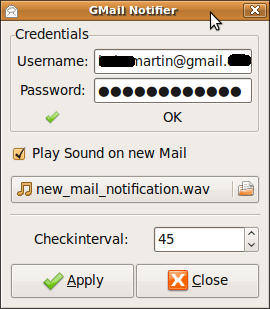 Gmail Notifier for Ubuntu 9.04 Jaunty Jackalope is an awesome little python-install application that integrates perfectly with the gnome desktop, and immediately alerts you of incoming Gmail messages.
The official Gmail Notifier by Google is only for Windows and Mac, for now – they say, but it's been over a year or so that Mac and Windows users enjoy this goody -- and Linux is left out. Anyway it's not the first time.
To get started, download and cd into the directory.
Install with sudo ./setup.py install
To configure go to System -> Preferences -> Gmail Notifier Configuration. To run Applications -> Internet -> Gmail Notifier . For a better integration with Ubuntu 9.04 this application needs python-indicate
sudo apt-get install python-notify python-indicate

Gmail Notifier puts an icon on your top panel, it highlights your unread Gmail messages, and shows you only their subjects.
– You can also activate the sound notification option for incoming new mails.
– Naturally you don't need to have your Gmail accounts open on any web browser whilst running this application.
Gmail Notifier for Ubuntu 9.04 is released under the GNU GPL v3 license and is now at version 0.8.
Continue in the personalization of your Ubuntu 9.04 – – with me
Download Gmail Notifier for Ubuntu 9.04
Update: Download Gmail Notifier