Opera 10.5x now has builds for Linux desktops, the very first beta version of Opera 10.5x brand, Opera 10.53 has been released. To better integrate with major Linux desktops, Opera had to drop Qt, the end result is an Opera that seamlessly fits on your Ubuntu, Kubuntu – KDE, and Gnome based Linux operating systems.
Opera Software has also totally rewritten the Opera desktop browser EULA (End User License Agreement) for Open Source Operating Systems. You can grab a copy HERE. Opera Software is trying to make it easier for Linux distributions to include Opera 10.53 browser in their software distribution repositories.
Most of the new features in Opera 10.53 like "Private browsing (automatically eliminates browsing history when closed)", "Turbo-charged browsing", "Unprecedented speed (with new Carakan JavaScript engine and Vega graphics library )" and lastly "Redefine widgets (Standalone Widgets)" have already been covered here at Kabatology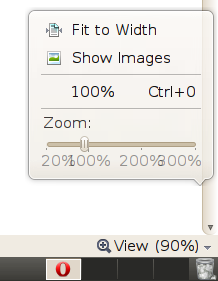 Opera 10.53 has a new zoom slider, for users who don't know that you can zoom in and out of web pages with handy keyboard shortcuts that work on all browsers –
zoom in: [CTRL +] zoom out: [CTRL -] Reset Zoom: [CTRL 0]. The zoom slider is accessible from the status bar.
Opera 10.53 for Linux and FreeBSD is a free download.