The Participatory Culture Foundation (PCF) has released the next major version of Miro open video downloader and player. Miro 5.0 adds several improvements other concerning video playback. "The latest release of Miro will allow you to clean up your music collection by changing titles like Track 01 to their real title with a single click! Unknown Artists are replaced with the actual name. Browsing your collection is vibrant and organized in the new Album/Artist view".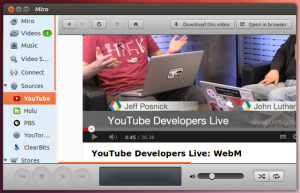 Miro 5.0 has gained support for HD downloads from Vimeo, and libtorrent the back-end of Miro bittorent has been upgraded. Other than being a video player its also an able video converter.
Supported video files include QuickTime, Windows Media Video (WMV), MPEG, Audio Video Interleave (AVI), WebM(Vp8)
To install Miro 5 on your Ubuntu or Debian based OS like Mint, use its official PPA.
Launch the terminal and run the following commands;
sudo add-apt-repository ppa:pcf/miro-releases
sudo apt-get update
sudo apt-get install miro
Miro 5.0 is licensed under the GPLv2. It has versions for Windows, Mac OS X and Linux distributions.