Mozilla has just pushed out an upgrade of it's desktop email client, Thunderbird. Thunderbird 3.1 beta 2 with many experimental features is now available for download. If you're using the previous version, Thunderbird 3.1 beta, upgrades are already available via the Update Manager.
Thunderbird 3.1 Beta 2 is built atop of the Gecko 1.9.2 platform. Stability and memory issues have been addressed, the UI has also been re-touched to improve the design. Mozilla says the main goal of this release is to find out about possible problems caused by the changes in the underlying Gecko 1.9.2 platform.
Whats new; Mozilla has added a new "Quick Filter toolbar". The quick filter toolbar was first released and tested as a Thunderbird 3 plug-in but its now an in-built feature. Also present is a new "Migration Assistant", that pops-up if an older Thunderbird profile is found. It gives Thunderbird 2 users a way to choose the new features in Thunderbird 3.1 or to keep their current features and settings. The migration assistant can be opened at any time from the Help menu.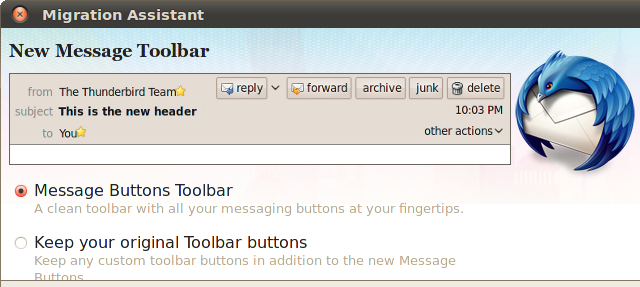 Thunderbird 3.1 beta 2 also introduces Personas lightweight themes to Thunderbird. A preview of Thunderbird skinned with Personas was published here at Kabatology. Now you can effectively test it. Get Personas Plus at Add-ons for Thunderbird, install it, then Tools -> Personas to skin Thunderbird the Firefox way. If the "show preview when selecting from menu" option is selected in "Personas Preferences", then you can preview themes before pasting them. Like in Firefox 3.6 and higher you don't have to restart Thunderbird after dressing it up with Personas themes.
Fixes have also been made to improve upgrading from Thunderbird 2. Thunderbird 3.1 Beta 2 should not be used on a production environment, Mozilla warns it may come with crashes and bugs and may potentially cause data loss in profiles (configuration data, preferences, downloaded mail).
Thunderbird 3.1 Beta 2 Release Notes and a free Download for Windows, Linux and Mac OS X platforms.
If you liked the single command-line rule that downloads and extracts Thunderbird on your Ubuntu then here is one for you,
wget -O - http://releases.mozilla.org/pub/mozilla.org/thunderbird/releases/3.1b2/linux-i686/en-US/thunderbird-3.1b2.tar.bz2 | tar xj -C ~
Download Thunderbird 3.1 beta 2, for Mac OS X, Windows and Linux