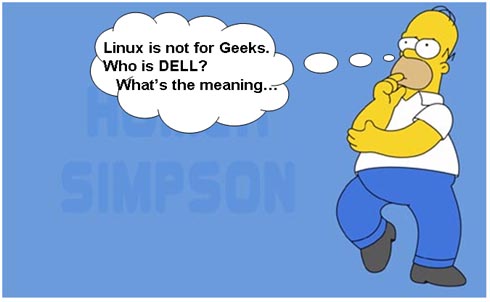 Dell, the second biggest constructor of personal computers in the world, announced last week that it will soon offer computers running Linux instead of Windows. Linux for the first time becomes a pre-installed OS on PC's. This puts an end to Microsoft's long supremacy and absolute monopoly in this domain.
Not all of its machines, obviously would have Linux. The company wants to stay in business so Linux will be an option on at least two desktops and one laptop models. Supporters of Linux naturally celebrate, it's a little victory.
The Texan constructor changed route, when on its blog Direct2Dell more than one hundred thousand customers asked a greater support for Linux.
Dell will be offering, Ubuntu , one of the most popular, user-friendly, and well-designed versions or distros available. It's got all of Linux's power and stability, it's completely free and it's easy to use. Try it to believe.
The installation of the open source operating system would allow Dell to lower the price of its personal computer — with the exemption of Microsoft licence. Linux licences are free.
We of the Linux community recommend that Dell drivers also become open source, so that anyone can modify, reuse and redistribute.