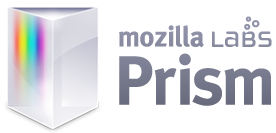 Mozilla Lab has released the beta of Prism 1.0 . Prism, popularly known as the  Web Application Launcher is an open source, cross-platform, stripped down browser that lets users pull-out web applications out of their browser and run them directly from their desktop.
Prism 1.0 beta, that comes with exciting new features, is a result of long testing period by companies like Yahoo! Zimbra, DesignLinks International and others.
New features include;
– New API functionality for allowing Prism-enabled web sites more desktop like power.
– Ability to set fonts, proxy settings and other application-speci?c settings.
– The ability to clear private data on demand.
– Applications are automatically updated when new Prism versions are available.
– Tray icon support, as well as submenus for dock and system tray menus.
– Full OS X 10.4 support, and further OS X specific enhancement.
– Support for SSL exceptions.
Now move to the new Prism 1.0 beta Website and download both the standalone version and the Firefox extension.
via [The Mozilla Blog]